RYUSEN HAMONO'S

PASSION FOR
QUALITY
Ryusen-Rin Pattern
Beautiful patterns on the blade represent the special skills of Echizen Uchihamono craftsmen. Multi-layers of soft and hard steel are forged and the surface is polished completely. Having this pattern all the way to the edge of the blade allows for extreme sharpness. The Ryusen-Rin pattern is a distinctive technique passed down by Ryusen Hamono craftsmen through the ages.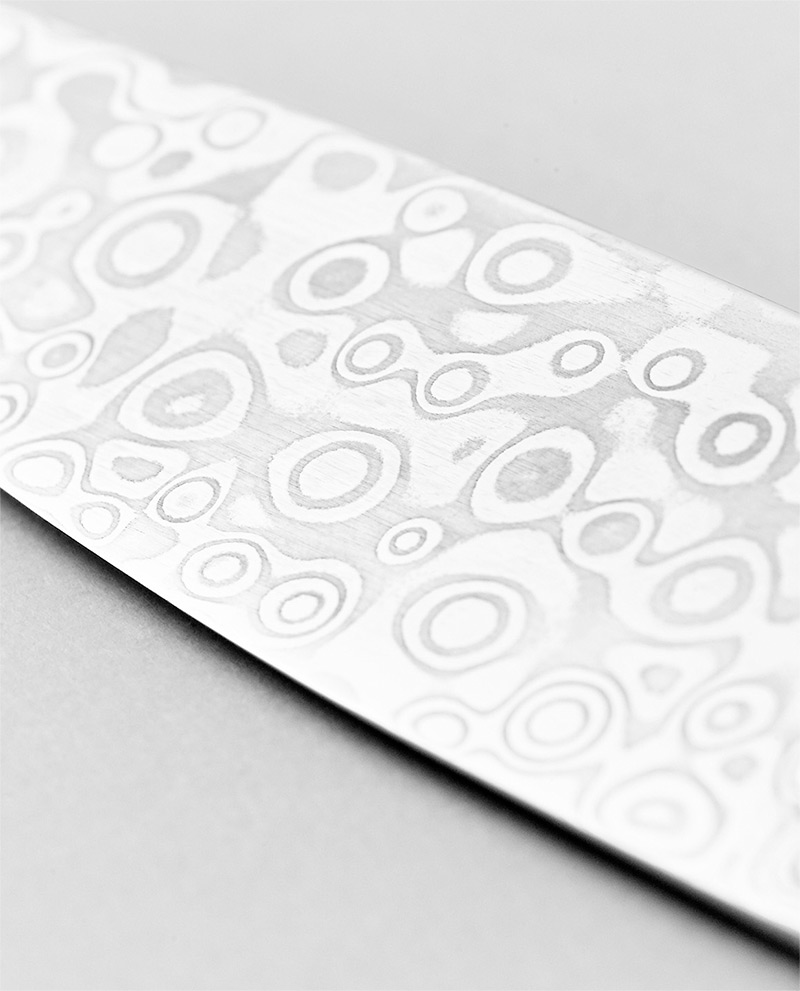 The origin of Ryusen-Rin, a ripple pattern
Ryu (or dragons) were worshipped in Japan. We believed that they made our wishes come true. Dragons appear from holly springs and fly up high in order to fullfill our whishes. The spray of water falls down like rain and creates ripples on the surface of springs under the shining moon. The image of those shining ripples on the surface was recreated as the Ryusenrin. We created this pattern in hope that everyone's wishes will be fulfilled.
Ryusen Hamono's passion for quality
01


Carefully selected materials
VG10

VG10 has long lasting sharpness because it has a balanced construction of chromium, molybdenum, and vanadium. Also it is easy to re-sharpen the blade.

Used in the "Bonten Unryu series" , "Tanganryu series" ,
"Prever series" , "Felice Regalo"

Ryusen-Rin Damascus

The blade, which is made by forging 70 layers of high-end stainless cutting steel?VG10 and VG2?to make the metallic structure fine, is tougher and more tenacious than those made from single-layer steel. Forging the blade with an excellent technique has allowed unparalleled, supreme sharpness. On the entire blade, which is carefully forged and sharpened by artisans, unprecedentedly beautiful Ryusen ripple patterns stand out.

Used in the "Steak knife series"

ATS314

ATS314 steel is a stainless cobalt alloy. It is a high-end cutting steel material that has excellent hardness and wear resistance, which are achieved by mixing cobalt, and allows long-lasting sharpness, which is achieved by high carbon content.

Used in the "Fukakuryu series"

Super Gold Ⅱ

It is an alloy material in which a large quantity of fine powder that is rich in alloying elements is evenly spread out in powder metallurgy processes. It is an ultra-high-end cutting steel material that is excellent in terms of the four major properties of hardness, tenacity, wear resistance and corrosion resistance.

Used in the "Blazen series" , "Super Gold series"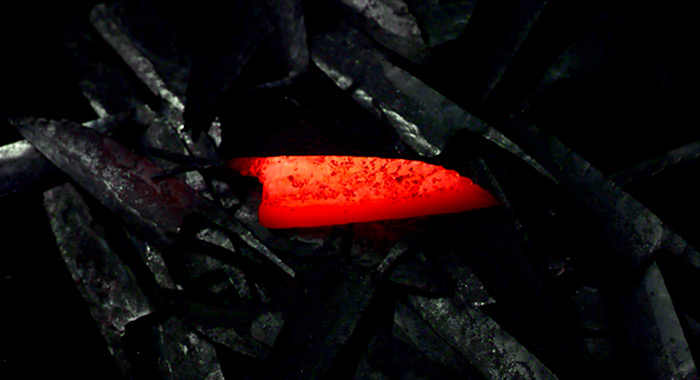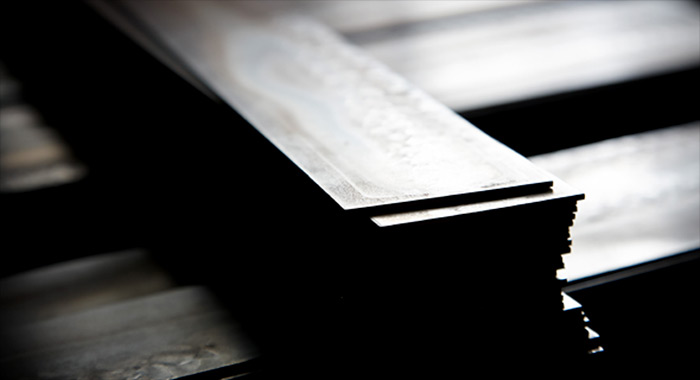 02


Manufacturing processes
Forging

Our knives are characterized by a structure in which stainless steel and special steel are bonded. Forging stainless steel at a high temperature raises the risk that its surface becomes oxidized to increase grain size. For this reason, it is necessary to forge stainless steel at an appropriate temperature; however, since stainless steel lacks elasticity, it is likely to be forged at a higher temperature.
There is the risk that blades forged at a high temperature are easy to deform due to a lack of tenacity and easy to chip after they are finished. To reduce this risk, we have adopted roll forging to keep stainless steel at the lowest temperature necessary for hot forging and prevent damage to the steel and deformation after it is forged by reducing burdens on the metallic structure. In the subsequent cold forging process, the metal grain becomes fine, making the blades tough and tenacious.

Heat treatment

We quench cutting steel using a salt bath, which causes less uneven hardness. For this reason, we can quench only a limited number of pieces of cutting steel in a day. In this process, our skilled artisans strictly control the heating time, retention time, cooling rate and temperature to allow perfect quenching and tempering that make the most of the material.

Rough polishing

Experienced artisans who have acquired the knowledge and craftspersonship of the late Hiroshi Masutani (former Chairman), who had 65 years of experience as a blade polisher, take charge of the polishing process. Polishing, which makes each material superbly sharp using a traditional hamaguri (clam) polishing technique handed down from the president two generations back, is a significantly important process along with the heat treatment process. Each blade becomes honed well while artisans sharpen their senses to carefully polish them one by one.

Buffing

We pursue not only sharpness but also beauty and usability in creating our products. To this end, our artisans manually buff blades in more than ten steps. The elegance of ripples, Damascus steel-distinctive patterns and Ryusen patterns standing out on the entire blade are generated by these buffing steps. Furthermore, carefully buffed edges reduce resistance when food materials are cut.

Attaching handle

One of the important requirements for good handles is to be sanitary and long-wearing. To prevent rust due to the entry of water from a gap between the handle and the tang, we completely fill the gap to keep out water. For natural wood handles, we carefully finish the wooden base with our own technique so that it becomes firm, preventing constriction of wood. Regarding the shape of the handles, to improve the functionality of handles, such as ease of use and grip, we have incorporated into our products valuable feedback and requests from chefs of various cuisines that we have interviewed. Our artisans carefully form handles manually one by one to make them simple but beautiful and highly functional.